A different story
Tre Spade yesterday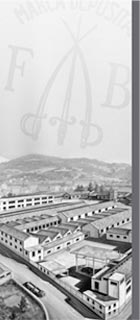 The Tre Spade story is not your usual company story. Sure, in every industrial enterprise, stories of men and machines, the strength of inventions and the ability "to do" are all intertwined. But, for many reasons, that which encompasses our brand is something different.
Its origins, above all, were related to an intense and, at the time, still unknown fragrance. The three crossing swords ("Tre Spade"), in fact, appeared in 1894 on the body of one of the first Italian coffee grinders, born together with the espresso trend that in those years had been growing among the most chic tastes. From macinelli (mills) to pepper mills, it was a short step: at the beginning of last century, Tre Spade designed the mechanism that is still today unsurpassed for functionality, precision and reliability.
In those same years, the first automobiles were starting to travel around the big cities: the company soon realized the capacity of this new motorised revolution, and since 1906, our family business has became a pioneer in the field of auto mechanics. From then on, year after year, tools were born for agricultural processing and forged steel components, representing one of our company's souls.
Because another thing that makes us original is this idea of ours to combine a highly industrial vocation, forged metal, and a genuine love for good things. In addition to automotive experimentation, over the years followed continued innovation in the field of kitchen tools: first meat mincers, then tomato squeezers and then sausage fillers. Three families of product which still today attest to our attention to those working in the kitchen.
More about Tre Spade?